The Lent Film Series: A Self-Discovery Journey Through Lent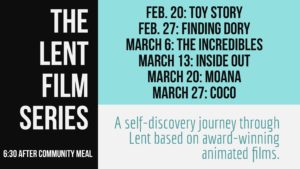 It's easy to discount animated, family movies as "kid stuff" or "fluff," but, in fact, they are often filled with themes and situations we are challenged by on a daily basis. Who am I? How do I fit into the world or my family?  Where am I going? How do I make meaning out of life? What does it mean to be a good person? Who will help if I don't (or can't)? How do I ask for forgiveness or offer reconciliation? What do I do when I am lost? How can I help make the world a better place?
Lent is the perfect time to consider these questions. It is a time for self-reflection and a turning toward a more spiritual understanding of ourselves and the world – a time for turning toward the Divine. But how can we do that if we aren't self-aware? Self-reflective? These award-winning films were chosen to help in that process, to allow us to consider together these questions and more.
Join us at 6:30 PM on Tuesday evenings, after the conclusion of the Community Meal, for film-watching and conversation. February 20 – March 27.
2/20      Toy Story
2/27      Finding Dory
3/6        The Incredibles
3/13      Inside Out
3/20      Moana
3/27      Coco